MOBILE GAME | Gamification | Quantified Self | 2014
Your walking step data turns into a game asset, which is required to keep playing the game. The more you walk, The longer you can play the game. As a result, you would be healthier while playing game.
This was my thesis project at NYU ITP 2014 and Here is the live streamed video of my thesis presentation(12min) and a collaboration with Jaewoong Hwang(in-game play-development) and Woonyung Choi(illustrator).

My Role: Project Leader.Design the entire game system architecture, Create a story, Back-end Development for Data
Concept Video
The desire to win the game drives you walk more
Playing walking to the moon is not like using fitness trackers/apps to acheive a daily goal. In this game,the desire of winning the game will drive you walk more.
Your walking experience is becoming a part of the gameplay. when you walk on the street to get more steps count, you earn your game hero's stamina to play the game, just like grinding in massive multiplayer online role-playing games. Only difference here is that grinding is happening in real life.
Gameplay
The more you play, the more you need to walk
Each stages require player to have at least 500 steps to complete. While you play the game, the game character consumes his stamina.(stamina = number of step counts you walked). To win this game, you also need to destory enemies in various ways otherwise they will interrupt you to waste more stamina.
Prototype
Let's try the game. Click (only works in Chrome)
How it works
Step counts in real life = Game stamina for your character
In this game, the more you walk in real life, the more you can play the game. Unlike other free to play game, you don't have to wait to play again, but walk outside.
Walking to the Moon is connected to an application called Moves, activity tracker. When you walk with a smartphone, Moves tracks how many steps you take in a day. Walking to the Moon communicates with Moves API to collect steps count, and convert into game stamina for game character to play the game.
Keep people Motivated

To play more, and walk more
01. Stronger Motivator
Do you want to play more? Then, walk
We all know for a fact that we would be healthier if we walk more. However, the fact doesn't motivate us. In this game,it stimulates its players' desire to win the game.There are two things player can do. One is being an awesome game player. Another is to walk more to get more stamina.
02. Clear Goal
Each stages require users to have approx. 500-1000 steps to win
In this game, challenges to achieve are made explicit and are designed to increase the difficulty. The more you are engaged in the game play, the more you need to walk. While you are immersed into the game,you might need to step outside of home to earn more steps to keep playing.
3. Check Your Progress
A combination of your daily activity and Gameplay performance
Your progress in the game will be displayed in the game map. Let's imagine you can walk to the Empire state building. This progress feed provides an experience which is empowering your daily walking experience. You are going to somewhere exciting with every step you takes
4.Reward on Behavior Change
Behavior changes on step counts will be rewarded with game items
Behavior change will be rewarded with game items. For instance, if players break the personal record of steps, they will receive a rocket that accelerate hero's walking speed twice faster for 5 seconds. Different game items will be given to players to benefit their various behavior changes. And these items will aid you to finish the game faster.
DATA VISUALIZATION
At some point, numbers doesn't motivate you.
Badges
Badges can feel meaningless for someone
PRoblem analysis
How to make people keep motivated?
APplying Game Design
Playing game is fun
Game Research
Are there any game that gamifies exercise?
Walk to keep playing
Instead of waiting or paying money, can we use fitness data?
Initial Approach
The more you exercise, the faster you are in game
Second Concept
Tamagotchi Style Game
Final Concept
What if we can walk to the moon?
Target Audience
Experienced in fitness tracking devices, but failed to motivate
First Prototype
Simple Touch Game
2nd Prototype
Add complexity to game play
Game Design
All specification of the game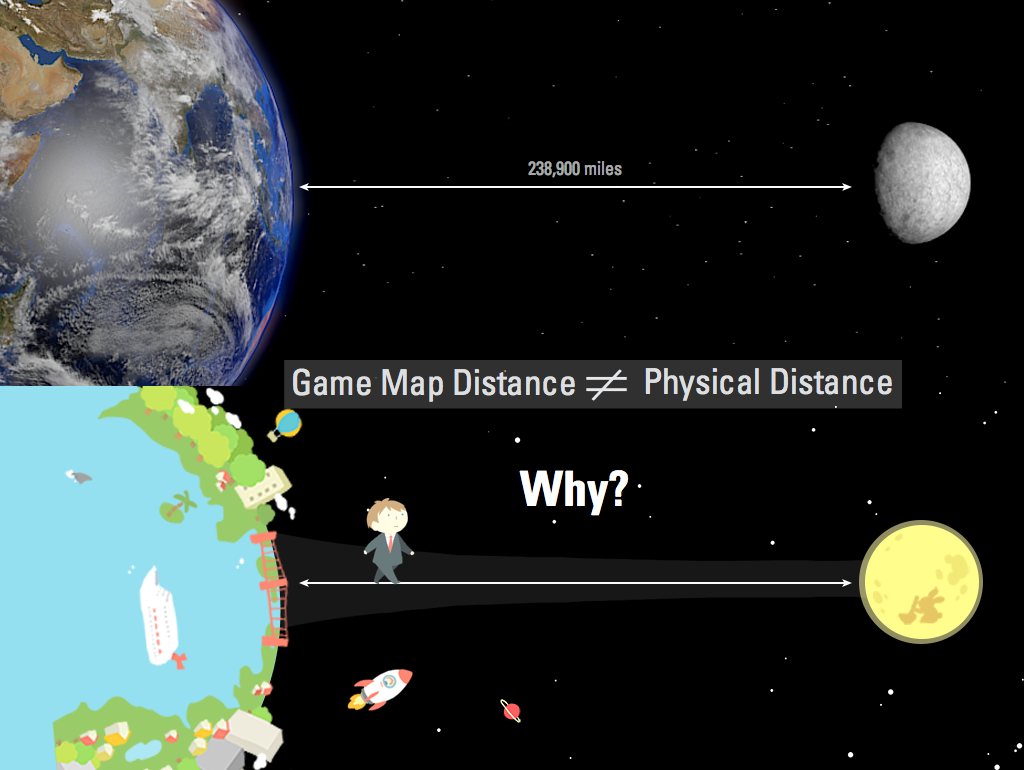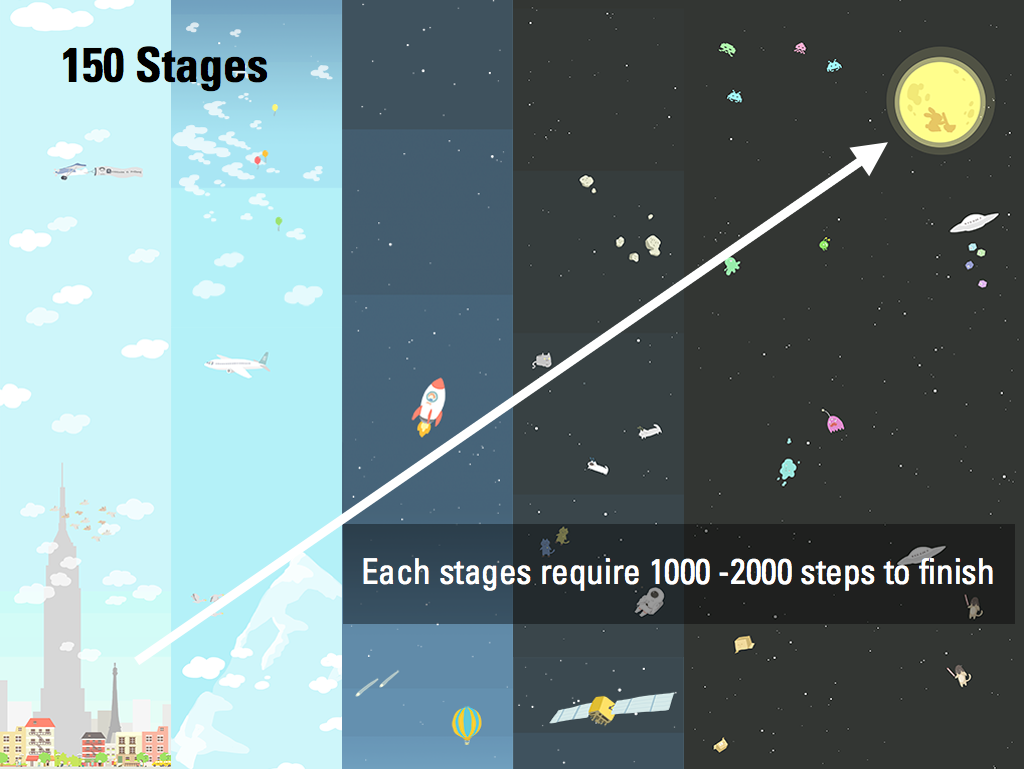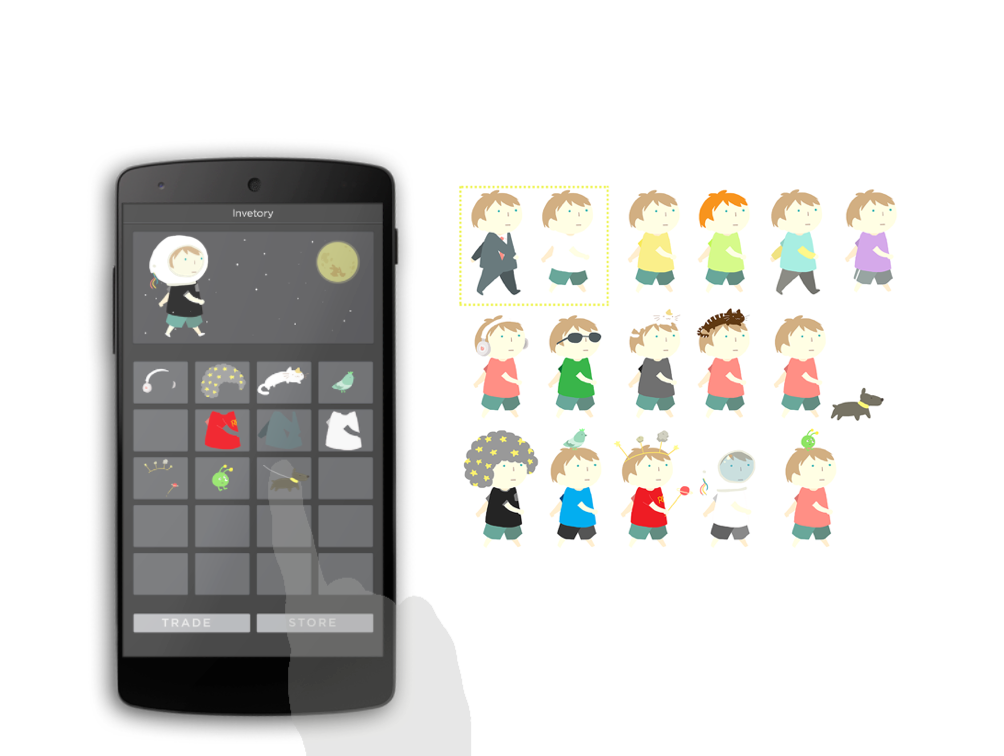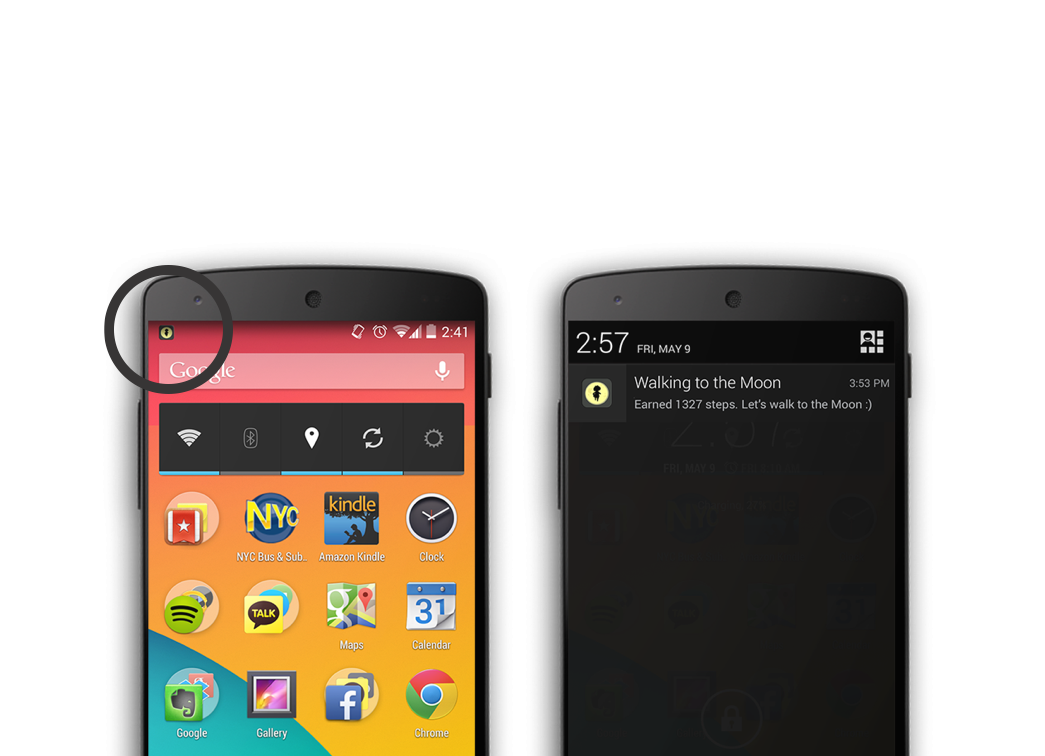 Updated Perspective
Now you can see the goal anytime
Similar project
We Balance
Physical Interactive Game with Wii Balance Board